GOAL! Russia 2-0 Saudi Arabia (Cheryshev
Half Time: Russia 2-0 Saudi Arabia. Gazinsky and Cheryshev help World Cup hosts take lead
Yuri Gazinsky scored the first goal of World Cup 2018 before Cheryshev netted another one to put hosts Russia 2-0 ahead of Saudi Arabia at half time.
Match Events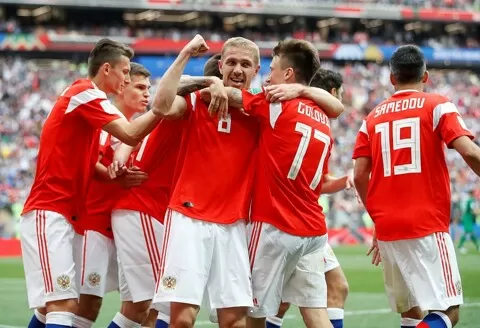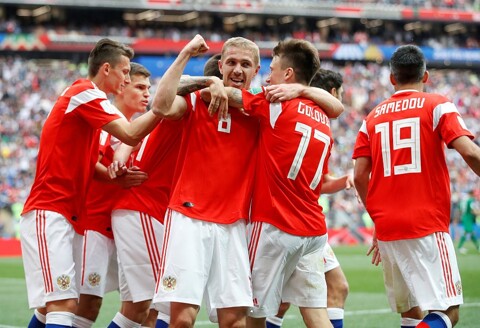 12′ GOAL! Russia 1-0 Saudi Arabia (Gazinsky)


GOALLLLLLLLLL!!!!!!! 1-0!!!! GAZINSKY PUTS RUSSIA AHEAD!
We have the first goal at the 2018 World Cup as Gazinsky directs his header beyond the reach of Al-Mayoof. Saudi Arabia failed to clear the corner from the home side. Golovin directed a cross to the back post for Gazinskiy to rise above his man and place his header into the bottom corner. A fine finish from the midfielder.
15′ Amazing save from Saudi keeper!

SAVE! Russia break forward down the right as Dzagoev releases Fernandes down the right flank. He cuts the ball back for Smolov in the middle. His effort deflects off Omar Hawsawi and still forces Al-Mayoof into the stop.
Fernandes was offside when he crossed the ball so if Smolov had scored it would have been brought back on VAR.
22′ Russia ace Dzagoev limps off with injury!

Oh dear. Dzagoev is down in a heap clutching his hamstring. He went down off the ball and remained on the ground. It does not look good for the midfielder.
42′ GOAL! Russia 2-0 Saudi Arabia (Cheryshev)

GOALLLLLLLLLLL!!!! CHERYSHEV DOUBLES RUSSIA'S LEAD!!
The host nation are in command of the game as Saudi Arabia are stretched at the back before Cheryshev plants a finish past Al-Mayoof. Russia broke with speed down the right before working the ball across to the left flank. Two defenders flung themselves towards the Villarreal midfielder, but he kept his composure with a neat piece of skill. Then with his left foot he fired the ball high into the net to double his side's advantage.
Line-ups
Russia XI: Yuri Zhirkov, Igor Akinfeev, Sergei Ignashevich, Smolov, Aleksandr Samedov, Alan Dzagoev, Mario Fernandes, Gazinskiy, Ilya Kutepov, Roman Zobnin, Aleksandr Golovin
Subs: Kudryashov, Granat, V. Gabulov, Igor Smolnikov, Aleksandr Erokhin, Artem Dzyuba, A. Semenov, Andrey Lunev, Denis Cheryshev, Daler Kuzyaev, Aleksey Miranchuk, Anton Miranchuk
Saudi Arabia XI: Osama Hawsawi, Taisir Al Jassim, Abdullah Al-Mayoof, Mohammed Al Sahlawi, Yehya Al Shehri, Salman Al Faraj, Yasir Al Shahrani, Omar Hawsawi, Salem Al Dawsari, Abdullah Otayf, Mohammed Al-Burayk
Subs: Yasser Al-Mosailem, Mansour Al Harbi, Abdulmalek Al Khaibri, Mohannad Aseri, Hussain Al Mogahwi, Hattan Babhir, Fahad Al Muwallad, Motaz Hawsawi, Mohammed Al Owais, Mohammed Kanno, Ali Albulayhi, Abdullah Alkhaibari