The use of video assistant referees (VAR) is being rolled out for the first time at the World Cup and Goal takes a look at some of the incidents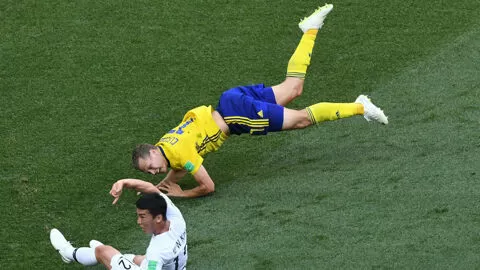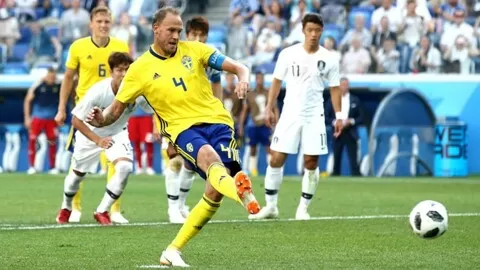 Sweden vs South Korea: VAR-assisted penalty decision   VAR: Yes Verdict: Correct decision Sweden got their World Cup campaign off to a winning start against South Korea thanks to a VAR-assisted penalty and their Asian opponents can have little to complain about as it was the correct call. When substitute Kim Min-woo appeared to scythe Viktor Claesson in the box shortly after the hour mark referee Joel Aguilar was not interested in Swedish appeals for a penalty, but the VAR cohort were soon in his ear about it. And, after reviewing the incident, he awarded the penalty. It was the right decision and Sweden capitalised, with Andreas Granqvist converting the spot-kick to ensure three points.
Brazil vs Switzerland – Gabriel Jesus penalty incident   VAR: No Verdict: Correct decision As Brazil chased victory in their opening game against Switzerland they had claims for a penalty denied and referee Cesar Ramos did not feel that there was sufficient doubt to warrant the consultation with VAR. Gabriel Jesus went down after seeming to be impeded by Manuel Akanji in the box, but Ramos had no interest in the claims and waved play on.  However, the decision was not too controversial in the end as, unlike some other incidents, replays appear to back up the official's judgement.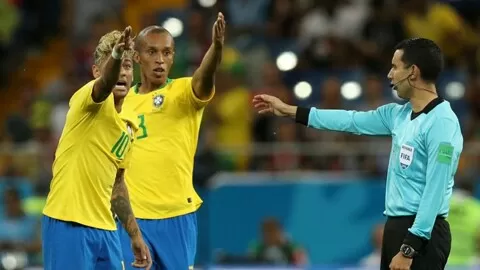 Brazil vs Switzerland – Miranda pushed for Swiss equaliser?   VAR: No Verdict: Opinion split Tournament favourites Brazil looked set for a familiar opening victory at the World Cup after Philippe Coutinho blasted them into the lead against Switzerland, but they were left reeling when the Swiss equalised in controversial fashion to claim a share of the spoils. Defender Miranda claimed to have been shoved in the back by Switzerland's goalscorer Steven Zuber in the build-up to the goal and the Brazilians were not shy about making their views known to referee Cesar Ramos, urging him to consult with his colleagues and the technology. However, the Mexican official was not interested in their pleas. After the game, Brazil coach Tite was clearly irked by the non-decision, saying: "If they push the player, what can I say? There was a foul there. "I spoke to Miranda and he said, 'When he pushed me I should have fallen' and I said: 'No! Absolutely do not do that, otherwise it's a simulation of the foul. Do not simulate anything.'"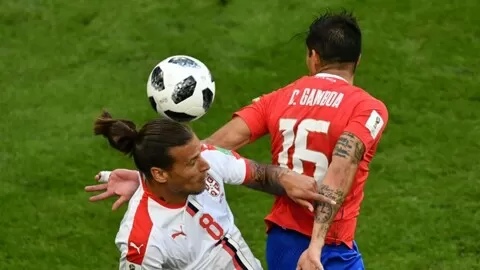 Costa Rica vs Serbia – Prijovic/Acosta incident   VAR: Yes Verdict: Correct decision Serbia got their World Cup 2018 odyssey off to a winning start against Costa Rica thanks to Aleksandar Kolarov's stunning free kick, but they could have finished the game with 10 men after the intervention of VAR. Aleksandar Prijovic was barely on the pitch a few minutes when he found himself at the centre of a VAR review for striking Costa Rica's Johnny Acosta, who threw himself to the ground in apparent pain. Referee Malang Diedhiou asked to see the incident again and, having watched the footage briefly, returned to the pitch to sanction Prijovic with a yellow – instead of red – card.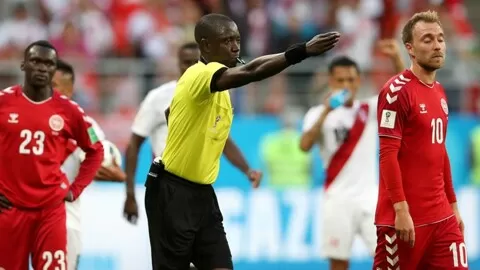 Peru vs Denmark – Penalty given & missed   VAR: Yes Verdict: Correct decision Denmark were on the receiving end of a VAR review that resulted in a penalty being awarded to Peru in their first match in Group C. Yussuf Poulsen was the culprit as his leg touched Christian Cueva as the Peruvian was running into the box and referee Bakary Gassama barely hesitated in consulting VAR for a clearer look and awarded the spot kick. However, things took a cruel twist for Peru as Cueva sent his penalty over the cross bar and Poulsen popped up with the winning goal to grant the Danes three points.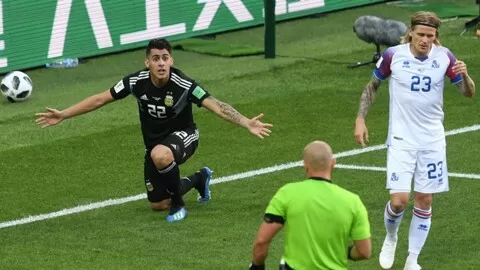 Argentina vs Iceland – Cristian Pavon denied penalty   VAR: No Verdict: Wrong call Argentina got their World Cup campaign off to a disappointing start as they were surprisingly held to a 1-1 draw against tournament newcomers Iceland in their opening match and there was a controversial penalty claim waved away without consulting VAR. The Albiceleste took the lead through Sergio Aguero but were pegged back almost immediately by Alfred Finnbogason. They looked certain to move in front once more when Maxi Meza won a penalty in the second half, but Lionel Messi could not direct his spot-kick past Hannes Halldorsson. With time running out, substitute Cristian Pavon appeared to be fouled inside the box by Birkir Saevarsson, but a second penalty was not awarded by the unmoved Szymon Marciniak, prompting disbelief among the Argentine players. The absence of VAR in that particular incident was incorrect according to many commentators, with former England defender Gary Neville suggesting that the officials are not capable of viewing the footage quickly enough to ensure the correct call is made.  "To me, there is a capability issue here over what we're asking the referees in that VAR truck to do," Neville told ITV. "I don't know what's going on in those trucks, but that's the thing they need to be transparent about and show us. "I'm not sure they will be able to select the angles quickly enough to get the decision back to the referee before the game has been restarted."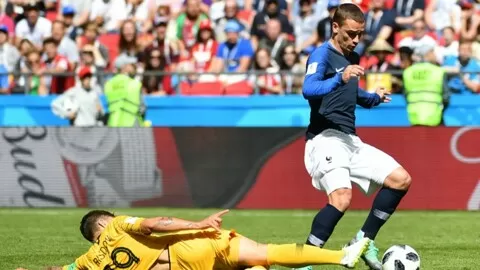 France vs Australia – Antoine Griezmann penalty   VAR: Yes Verdict: Opinion split The first-ever use of VAR at the World Cup occurred on the third day during the Group C encounter between France and Australia. With nearly an hour played and the score locked at 0-0, Antoine Griezmann went to ground in the box following a tackle by Josh Risdon, but referee Andres Cunha wasn't ready to award a penalty to Les Bleus until the VAR intervened to advise him that it was indeed a foul. A number of minutes passed as Cunha reviewed the footage and overturned his initial decision before Griezmann stepped up to fire France into the lead. Soon after the penalty Australia were awarded a spot-kick themselves, which Aaron Mooy converted, but they left Kazan with nothing to show for their efforts thanks to a fortunate 80th-minute goal from Paul Pogba. The decision to award the penalty divided opinion among players and pundits alike, with Socceroos goalkeeper Mat Ryan suggesting that they had been "beaten by a better team and almost by technology a little bit." "On the replays I have seen it didn't look conclusive," Ryan said after the game. "You hear that technology was brought in to take out clear-cut errors and all this in the game but that's the grey area. "What's a clear-cut error and what's not? What's conclusive and what's not?"