If the new Arsenal manager Unai Emery shares one thing in common with his predecessor Arsene Wenger, it may be a distinct intolerance for the whims of Jose Mourinho.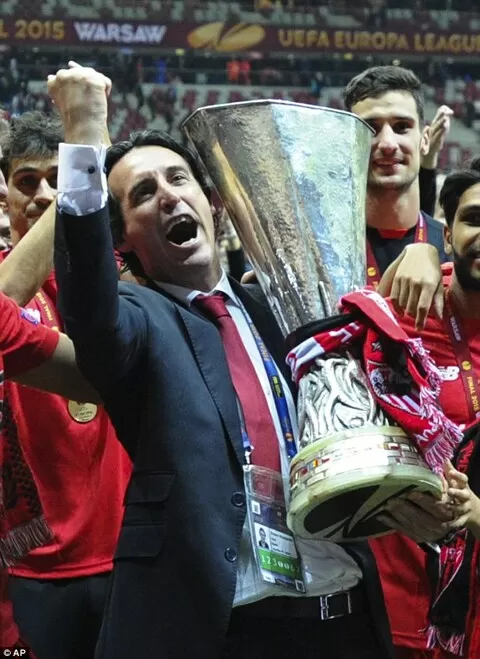 Wenger seldom gave the impression he had much time at all for Mourinho's Machiavellian tendencies and Emery's distaste revealed itself after Real Madrid beat Sevilla in 2010.
Mourinho entered the post-match press conference waving a piece of note paper onto which he had bullet-pointed thirteen errors supposedly made by referee Carlos Clos Gomez.
Emery, who managed Valencia at the time, was asked for his view of Mourinho's hysterics. 'Mourinho's stance is that of a crybaby,' Emery concluded. 'We have reasons to draw up a list with errors and to make a public complaint for every time we have been adversely affected, but we don't.'
So there is one to file away and look forward to next season. He also retains some bragging rights over Jurgen Klopp, after defeating Liverpool in the 2016 Europa League final.
Emery, the 46-year-old Spaniard on Monday appointed as Arsenal's new manager, can expect a warmer welcome elsewhere.  He has a strong friendship with Manchester City manager Pep Guardiola and Emery is one of the very few coaches often invited for a post-match glass of wine with the Catalan during his time managing Barcelona.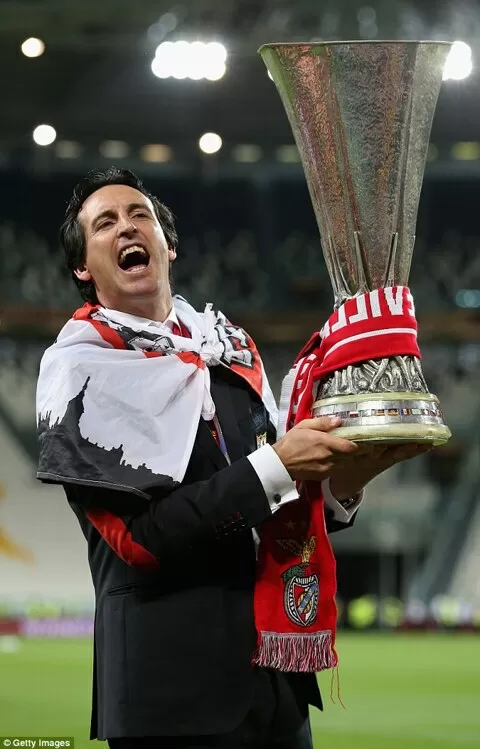 Emery earned Guardiola's admiration with a vibrant brand of football that took Valencia into the Champions League before then winning three consecutive Europa League trophies with Sevilla. In Andalucia, Emery developed a reputation as one of Europe's most studious coaches. In Spain, he admitted to working until 2am most evenings before rising again within six hours to do it all over again.
At the training ground, he is demanding of himself and the players. 'I'm not the kind of coach who says: "Let's do a few piggy in the middle exercises and get home for lunch." Emery once quipped.
As a one-on-one coach, he was respected by his players, lifting their performances even when supporters appeared to have turned against them. It may be a particularly useful skill to draw upon once he encounters the rancour and angst of Arsenal Fan TV.
While at Sevilla, he turned around the fortunes of former Arsenal winger Jose Antonio Reyes. 'When I came here the supporters said to me: "please don't play Reyes." I said to him: "José, do you know what they're saying about you?" We worked on it. And now every time he goes out at the Sánchez Pizjuán, the crowd are chanting: "Reyes! Reyes!"
Along with his video analysts, Emery will spend up to twelve hours working on the cut. Players are loaded with information, both in the video suite at the training ground and then as a going-home present. 'There were so many videos I ran out of popcorn,' his former Valencia winger Joaquin joked.
At Sevilla, Emery would give his players pen drives to take away, packed with precise preparation for their opponents. When defender Jeremy Mathieu was thought to be shirking, Emery surprised him at training. 'What did you think of it?' Emery asked. The player nodded, 'Very good, boss.' Emery then revealed he had given Mathieu an empty pen drive.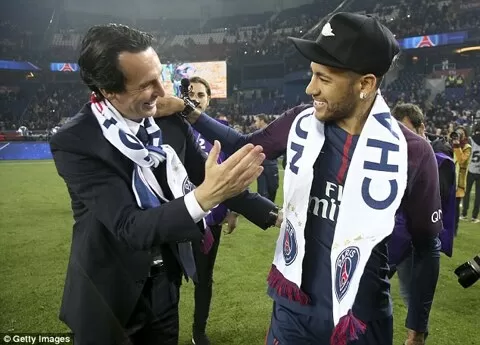 Some may find the methods overbearing but at Sevilla it was clearly successful and particularly so in the Europa League. As Arsenal return to Europe's second competition again next season, this might be one motivation for Ivan Gazidis.
Emery, an engaging man but more coach than manager, has also shown himself to be content to work within a structure similar to the one now in place at the Emirates. Arsenal have recruited Sven Mislintat as their head of recruitment and Raul Sanhelli as head of football operations.
Emery will be their subordinate when it comes to transfers and he is one of very few coaches who will be content with the arrangement. At Sevilla, he worked under the excellent recruitment director Monchi and it worked a treat.
Yet upon joining Paris Saint-Germain in 2016, Emery's great step forwards became an exercise in crisis management. Having proved his Europa League credentials in Seville, his task was to elevate PSG to the continental elite by winning the Champions League.
Two calamitous defeats – first the infamous 6-1 in Barcelona that saw PSG surrender a 4-0 first leg lead – and then this year's meek capitulation to Real Madrid, ensured his time in Paris would be short-lived. The reverses against Spain's foremost sides enacted reputational damage back home in Iberia. As Emery's PSG career meandered towards its conclusion, a return to Spain was barely mentioned. There was fleeting interest from Real Sociedad, where Emery was a player, but he wants to manage a team competing in European competition so he rapidly shunned the interest.
In France, there is only mild admiration for a coach who won the domestic title this season with PSG but failed to do so in his debut year after being surpassed by an exciting Monaco side. This season, he failed to extract the most from a side that featured showbiz talents such as Neymar and Kylian Mbappe. The relationship with Neymar cast a dark shadow over Emery's aspirations.
From early on, a suspicion set in that Neymar considered himself to be above the manager's methods. The long and exacting video analysis sessions were deemed too dull. He was the only first-team player to miss the club's Christmas party at Disneyland Paris.
Instead, Neymar headed home for an 'urgent trip' to Brazil where he was pictured socialising and visiting his dentist. Emery, for his part, was left exasperated when Neymar began to travel with his own wash bag, rather than the club's version that every other player used. Neymar also has his own personal physio and tensions between players manifested themselves in September when Edinson Cavani wanted to take a penalty but, no, Neymar, decreed, he was new the king of France and he would be taking penalties.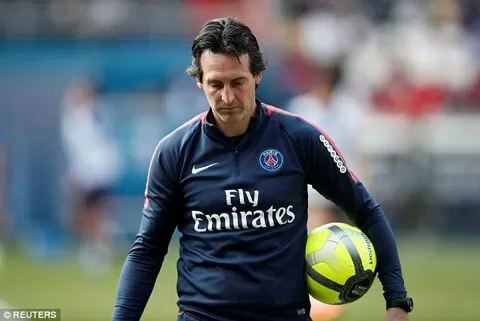 The Paris soap opera is a long way from Emery's own roots. The son and grandson of footballers, Emery believes in the game's core values. He endured a modest playing career, with only five top-flight games for Real Sociedad in 1995 before beginning his managerial career as player-manager of third division Lorca. He achieved promotion there and took Almeria up to La Liga for the first time in the club's history.
While at Sevilla, he rebuked those pursue positive league finishes at the expense of the thrill of a Cup final and at Valencia, Emery collaborated over a book called 'Winning mentality: the Emery method'.
Emery said: 'Fans want their emotions to come to the surface and the only to way to make that happen is to give them a team that transmits emotion: intensity, attacking, scoring goals, competing, fighting.
'That awakens them. The fans want emotions. The Champions League generates more money and allows you to buy better players but what fans really want is to enjoy their team, to win things. If you have money but you don't generate feeling and emotion, it's worthless. You can be in the Champions League and generate money but if you get knocked out in the group it means nothing to the fans. Sure, you've made £20m, but what does that mean to them?'
Those words, surely, will resonate with many on the Arsenal terraces. Emery has long mulled over a move to England. He speaks some English but showed in France that he learns a language quickly and he previously turned down interest from Everton and West Ham before joining PSG.
Now, his time has come.