Manchester City's Abu Dhabi owners have pledged their long-term commitment to the club and vowed to build on a decade of transformation under Sheikh Mansour.
City have won their third title in the past seven years this season, with Pep Guardiola's side emerging as one of the most exhilarating teams in Premier League history.
Having altered the balance of power in Manchester, and changed the football landscape in England, City's owners are determined to maintain the club's success for years to come.
This summer marks the 10th anniversary of the takeover, and chairman Khaldoon Al Mubabrak said: 'We will continue through this journey. We're excited about what's been accomplished, particularly this year – what a way to celebrate 10 years.
'But it's a long-term plan. His Highness Sheikh Mansour is committed in the long-term, this journey continues.
'Now it's about the next 10 years, continuing to work with a strategy and a vision.' Al Mubarak believes the club's Abu Dhabi owners have proved their doubters wrong since assuming power in 2008.
'I remember many years, we'd see a lot of "it won't last, it's unsustainable, financially unfeasible, they're not going to be successful, they cannot unseat the big powers, they won't be able to compete in the Champions League".
'I've heard all of that, time and time again,' he said.
'But I knew it could be done. We had the right people involved, the support of the fans and the commitment.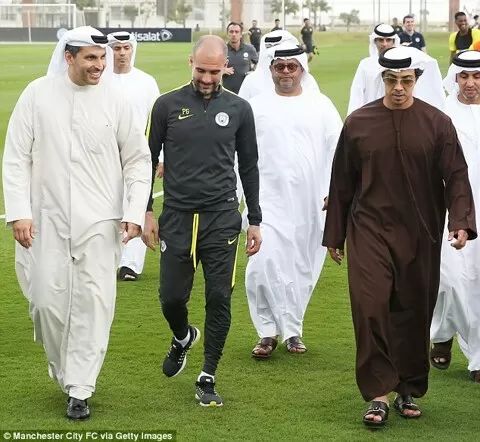 'At no point have I felt the fans were not 100 per cent behind the ownership and this project. Without that, things would have been far more difficult…'
In an end-of-season interview, Al Mubarak admitted that his only disappointment was the club's failure to reach the semi-finals of the Champions League after losing to Liverpool.
'We should have done better,' he said. 'The positive thing is that that is going to give us so much more hunger, knowing how close we were this year.'
The City chief suggested that captain Vincent Kompany could stay at the club for several more years after resurrecting his career this season following a succession of injuries.
'The way he's come back, the last two months of the season, he's been arguably the best defender in the world,' he said. 'Hopefully he still has more years to play at the highest level.'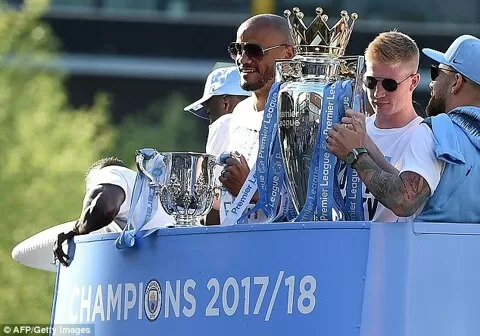 Al Mubarak also expressed a desire to keep Patrick Vieira, currently coach of City's franchise club in New York, as a potential successor to Guardiola after the Frenchman was linked with Arsenal and Nice.
'I have a strong belief he'll be a great manager,' he added. 'I hope he continue to be part of this group and he has my commitment always.'
Al Mubarak confirmed that City only intend to make a couple of new signings this summer with Napoli playmaker Jorginho and Leicester winger Riyad Mahrez understood to be at the top of their list.
Jorginho's agent Joao Santos revealed on Monday that he will hold talks in Naples next week over the £50million deal.