Mexico all but secure a World Cup last 16 spot following another strong display against South Korea, with Carlos Vela and Javier Hernandez the goalscorers.
2018 World Cup
1–2
Match Events
21′ CHANCE! Son's shot wide out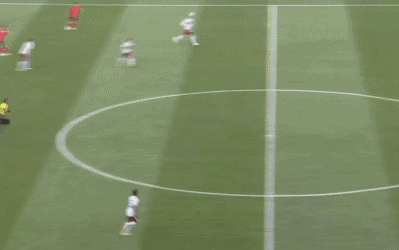 A misplaced pass from Guardado gives South Korea a counter-attack spearheaded by the Tottenham man, who sees two close-range efforts on the right blocked by Salcedo.
26′ Penalty Goal! Korea Republic 0-1 Mexico (C. Vela)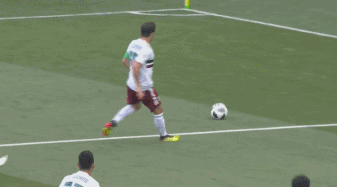 Jang Hyun-soo hand balls a cross in from Lozano on the back of a near-miss at the left post by Hernandez and the referee points straight to the spot.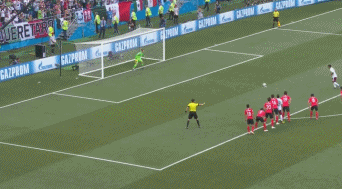 It's been an emotional few days for Carlos Vela, after his grandfather passed away following the Germany win – but he shows no lack of composure to slot home the penalty as he sends Cho the wrong way and pushes it into the right.
27′ CHANCE! Layun's shot over the bar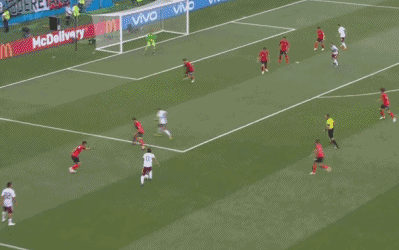 A square ball by Vela, rolled across the edge of a congested Korea box from the restart, lays up a golden chance for Layun.
His powerful shot is just tipped over by Cho with fantastic reflexes; corner to Mexico.
39′ CHANCE! Son's shot saved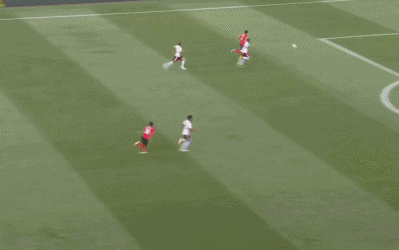 Son hares downfield on a breathtaking run that sets South Korean pulses pounding and Mexican alarm bells ringing.
He cuts a little too deep on the left side of the box to deliver a good shot, but Ochoa herds it out regardless for a corner, unwilling to take the risk.
55′ CHANCE! Ki Sung-yueng's shot saved
A rocket of an effort from Ki, driven in from outside the box, is bobbled by Ochoa before he claims at the second attempt.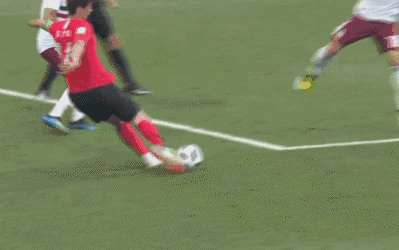 58′ WHAT A CHANCE! Guardado's shot saved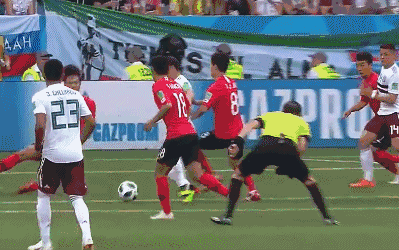 Guardado sees a fabulous effort curled towards the top-left corner just pushed wide by a leaping Cho. South Korea concede the corner.
66′ GOAL! Korea Republic 0-2 Mexico (Javier Hernández)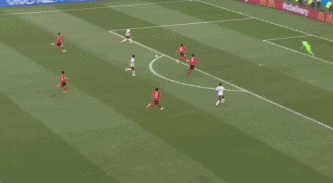 It's the 50th goal for Javier Hernandez in national colours as he steps inside two defenders with a ball clipped to him by Lozano eight yards out on the left.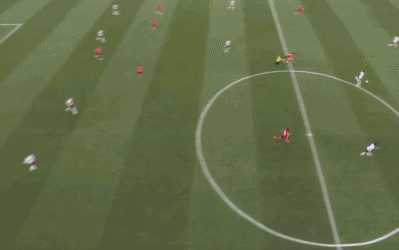 He drills it in at the right corner past Cho before wheeling off in celebration. Mexico go wild; South Korea look forlorn. That could be the game.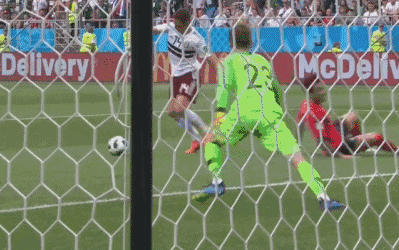 75′ Son misses a golden chance!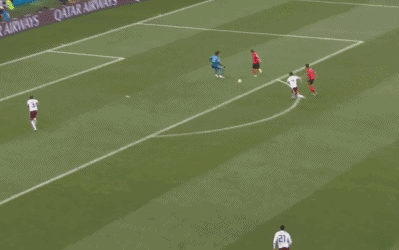 Ochoa plays short to Marquez who plays back – lazily – to his keeper, allowing Son to dart in an intercept.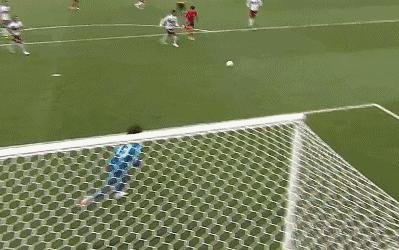 The defender recovers in time to stop the shot and deny two more attempts; the ball eventually rolls back to Ochoa but not before Ki slides in on him, apparently injuring the keeper, and sparking a bout of shoving between players in the box.
93′ GOAL! Korea Republic 1-2 Mexico (Son Heung-Min)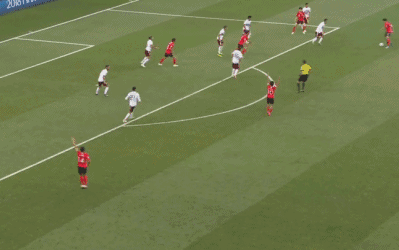 It's a wonderful goal from Son who, after being unable to find the net for over 180 minutes of this World Cup, bangs in a screamer from 20 yards out on the right, burying it in the top-right corner.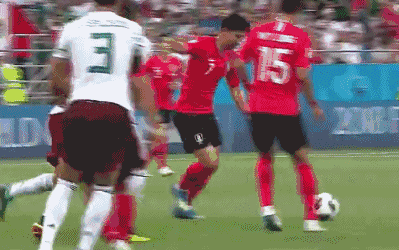 Match Report
Javier Hernandez hit his 50th international goal as Mexico edged closer to progression from World Cup Group F with a 2-1 victory over South Korea.
Mexico's all-time leading scorer was well marshalled by South Korea's defence for much of Saturday's clash in Rostov-on-Don, but took his chance when it came in the 66th minute, slotting home in composed fashion at the culmination of a wonderful counter-attack.
Hernandez's goal was nothing less than Mexico, who beat defending champions Germany 1-0 last time out, deserved following another accomplished performance, with South Korea having rallied following Carlos Vela's 26th-minute penalty.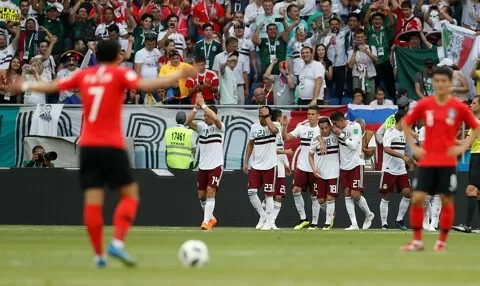 It was not always smooth sailing for Juan Carlos Osorio's side, though, with Lee Yong and Son Heung-min passing up presentable opportunities in the early stages.
However, Jang Hyun-soo's handball gave referee Milorad Mazic little choice but to point to the spot – the number of penalties awarded in Russia consequently surpassing the 13 across the entirety of the previous World Cup – and Vela, who announced the death of his grandfather following the win over Germany, converted.
Hernandez's strike means Mexico will progress to the last 16 if Germany fail to beat Sweden, with Son Heung-min's added-time stunner not enough to stop South Korea staring at a potential group-stage exit.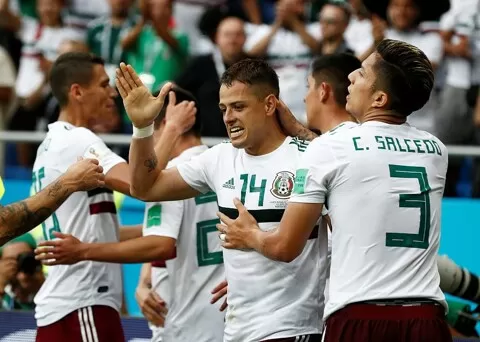 Line-ups
South Korea XI: Jo Hyeonwoo; Kim Minwoo, Kim Younggwon, Jang Hyunsoo, Lee Yong; Hwang Heechan, Ki Sungyeung (C), Ju Sejong, Moon Seonmin; Son Heungmin, Lee Jaesung.
Subs: Kim Seunggyu, Kim Jinhyeon, Jung Seunghyun, Oh Bansuk, Yun Youngsun, Park Jooho, Kim Shinwook, Lee Seungwoo, Koo Jacheol, Hong Chul, Jung Wooyoung, Go Yohan.
Mexico XI: Ochoa, Salcedo, Moreno, Herrera, Alvarez, Layun, Guardado (C), Gallardo, Vela, Hernandez, Lozano.
Subs: Jose Corona, Talavera, Ayala, Marquez, Gutierrez, J. Dos Santos, Fabian, Jimenez, G. Dos Santos, Jesus Corona, Peralta, Aquino.